Étudiant.es, professionnel.les, chercheur.euses ne manquez pas cette opportunité de faire rayonner vos travaux et transférer les connaissances en sciences laitières - 6 prix récompenses pour les communications étudiantes : Date limite 10 février.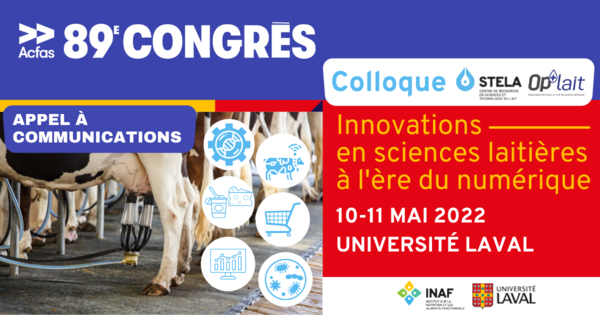 Zoom sur : L'Atelier "PÂTES FILÉES" organisé dans le cadre du Cheese Symposium 2021
=> Animé par notre chercheur membre Julien Chamberland (Cliquez sur l'image pour plus d'information)

Register

HERE
100% online edition of the most prestigious congress in the cheese field which involve scientific experts sharing their last research outcomes and technological innovations. An event by FIL-IDF Canada and STELA dairy science and technology research center of Université Laval.
A special dairy field event including researchers and graduated students prensentations, in the contexte of:
IDF International Cheese Science and Technology Symposium -

June 7-11, 2021
4 h content, direct live or replay access, for each 5 scientific topics, with prestigious speakers and prime conferences. Numerous opportunities to connect directly with researchers, next generation of scientists, cheese experts and dairy industry reprentatives.
Forum Techno Novalait

-

8 et 10 juin 2021
The forum showcases resarch outcomes supported by Novalait. This special event promotes meetings between the food industry and researchers and also make you access young talented professionnals trained through dairy area research programs.
* * *
=> 20 hours of content : scientific presentations - thematic interactive sessions - e-Posters sessions.
Consult event website for more program details: program
Submit your oral presentation abstract (outside of main program) or E-Poster abstract before April 15th by clicking here
Register

HERE
---

The INAF flagship event converted into a 100% virtual edition to get inspired, build partnerships and innovate.
A new format, fully on-line with all the year long activities.
Throughout 2021, stay tuned about the agenda => Have a look here.